Kurin Lock® blood culture collection technology
The enormous problem with false-positive blood cultures
Determining whether a bloodstream infection exists is critical to the wellbeing of patients and the financial health of hospitals.
A blood culture test is the gold standard for identifying bacteremia.
Each year, millions of blood culture tests influence patient care decisions in the UK. The majority will find no infection, but of the cultures that test positive, almost 50% are false-positive results.

When blood cultures test positive—whether true or false—immediate action is taken to treat the patient with antibiotic therapy.

Roughly 20% of the microbes present in skin reside deep in the dermis layer and may be drawn into blood samples. Without a way to avoid these microbes, hospitals have accepted high rates of seemingly unavoidable false positives.
Traditional blood culture collection methods provide skin microbes a direct line to the culture bottle
Kurin technology sidelines contaminants in the initial flash of blood which may contain skin contaminants. Roughly 20% of the microbes present in skin reside deep in the dermis. With venipuncture, contaminants may be dislodged and drawn into blood culture samples leading to high rates of seemingly unavoidable false positives.
Standing guard between the venipuncture site and the culture bottle, the Kurin Lock® specimen diversion technology corrals blood from the venipuncture site while the clinically relevant blood sample flows into the blood culture bottle.
Why Use It?
Approximately 50% of all positive blood cultures are false positive results due to blood culture contamination.
Hospitals spend £4,000-£8,000 per false positive test that leads to unnecessary treatment of non-existent bloodstream infections. There are high costs for patients as well. Extended hospital stays increase the risk of hospital-acquired infections and adverse events. Unnecessary antibiotics increase the risk of allergic reactions, drug interactions, and drug-resistant superbugs.
All Blood Cultures

Negative
Positive
False Positive
How does it work?
Each Kurin blood culture collection set features Kurin Lock®, a small but powerful device that automatically sidelines the initial flash of blood during the routine process of drawing a blood culture.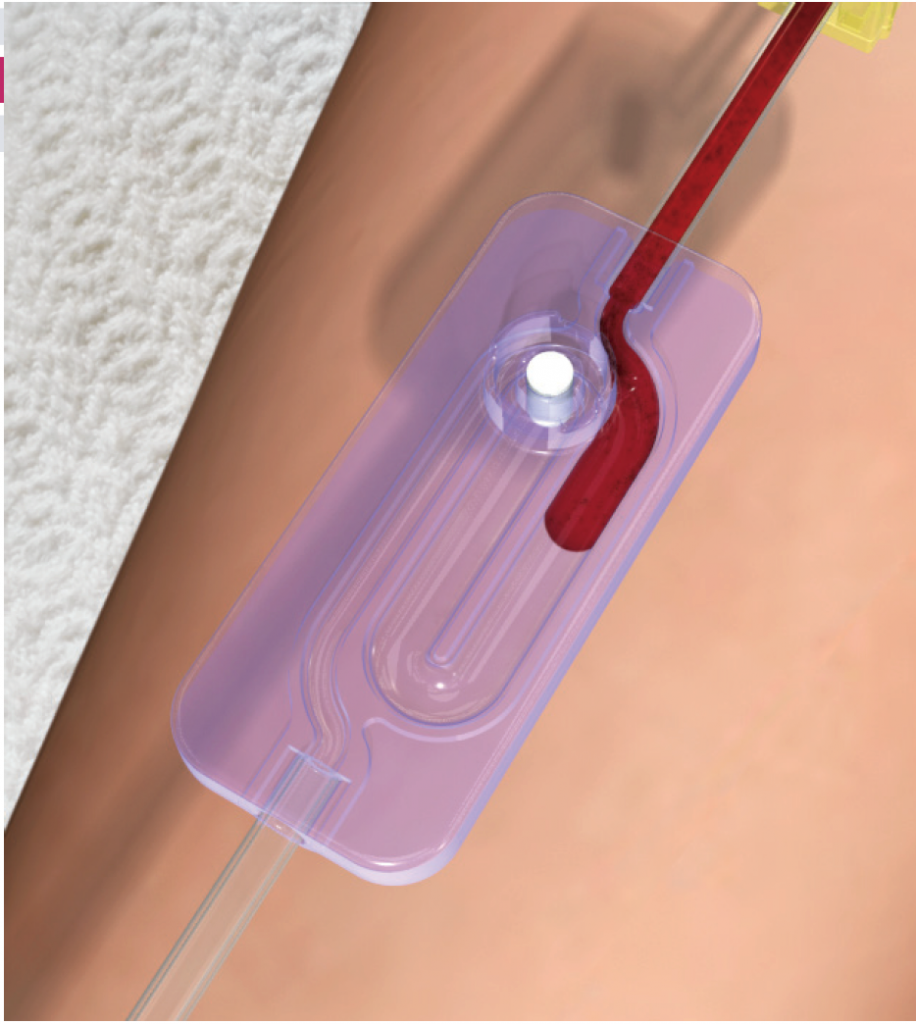 Serves as a flash chamber to provide visual confirmation of proper needle placement in the vein.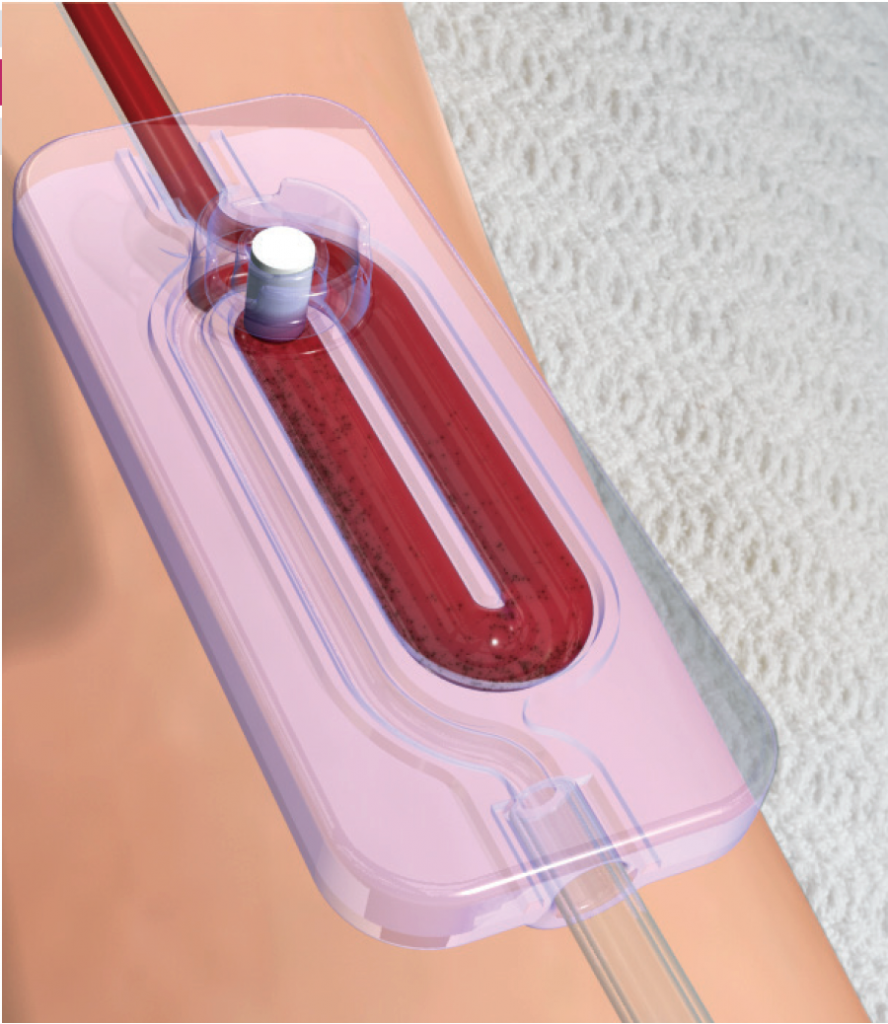 Contaminants residing in the initial ~0.15ml volume of blood (35x a standard 21G needle) are captured in the u-shaped Kurin Lock®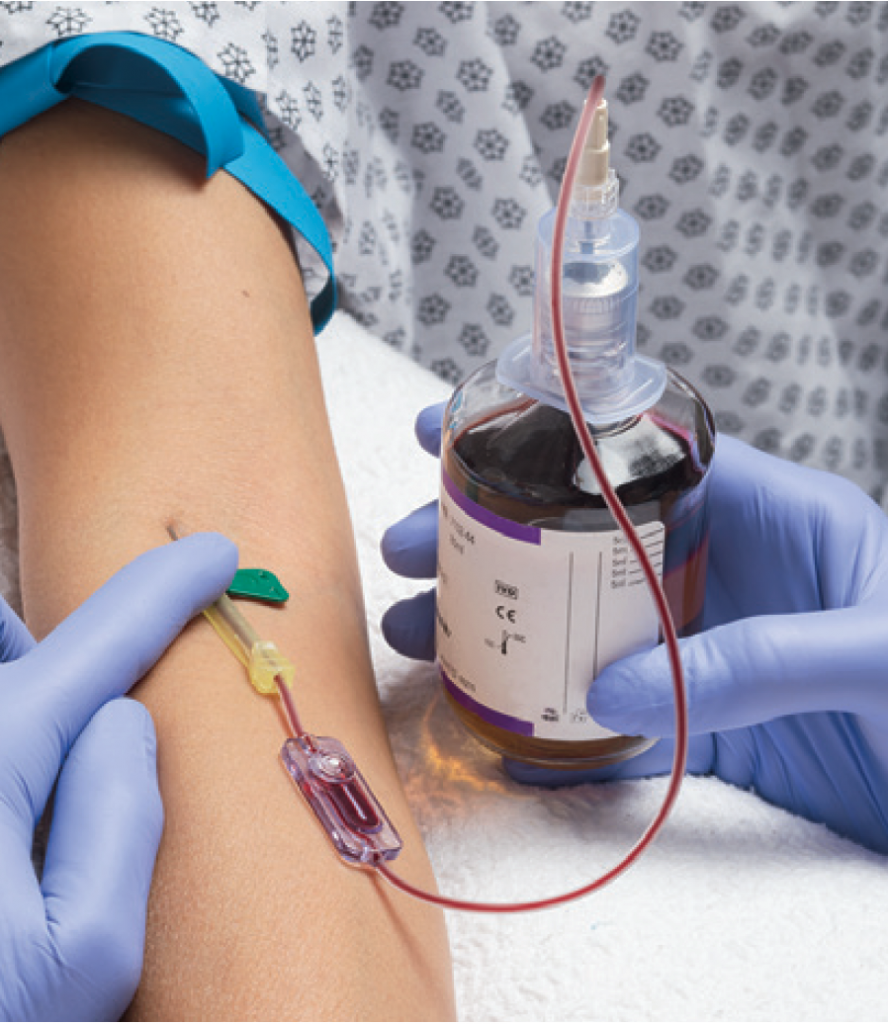 When the collection bottle is attached, blood flows directly from the vein into the culture bottle through a separate channel.
Simple. Passive. High return. Low waste. Better.
High compliance
Kurin requires no change in patient experience or caregiver practice, enabling caregivers to continue using familiar, proven venipuncture technique.
Antimicrobial Stewardship
Kurin use may support efforts to ensure appropriate antibiotics use and combat the virulence of multidrug-resistant super bugs.
Point of care practicality
A compact, elegant design offers space-efficient storage, minimal packaging, and convenient disposal in standard medical waste receptacles.
Blood conserving
Requiring only ≈0.15 ml of precious blood to accomplish a ≈35x washout of a 21-gauge needle, Kurin sidelines skin microbes without slowing down busy clinicians, is sensitive to blood wastage, and can be used with pediatric patients.
Visual confirmation of venipuncture
Kurin acts as a flash chamber, allowing the clinician to visually confirm the proper needle placement in the vein.
High return
Kurin has engineered a solution that may yield enormous financial returns for the hospitals.
Can be easily kitted
Kurin can be added to blood culture procedure kits to aid in compliance of hospital protocols.
When Kurin was used, even hospitals below the 3% benchmark significantly reduced blood culture contamination (BCC) rates and achieved substantial cost savings.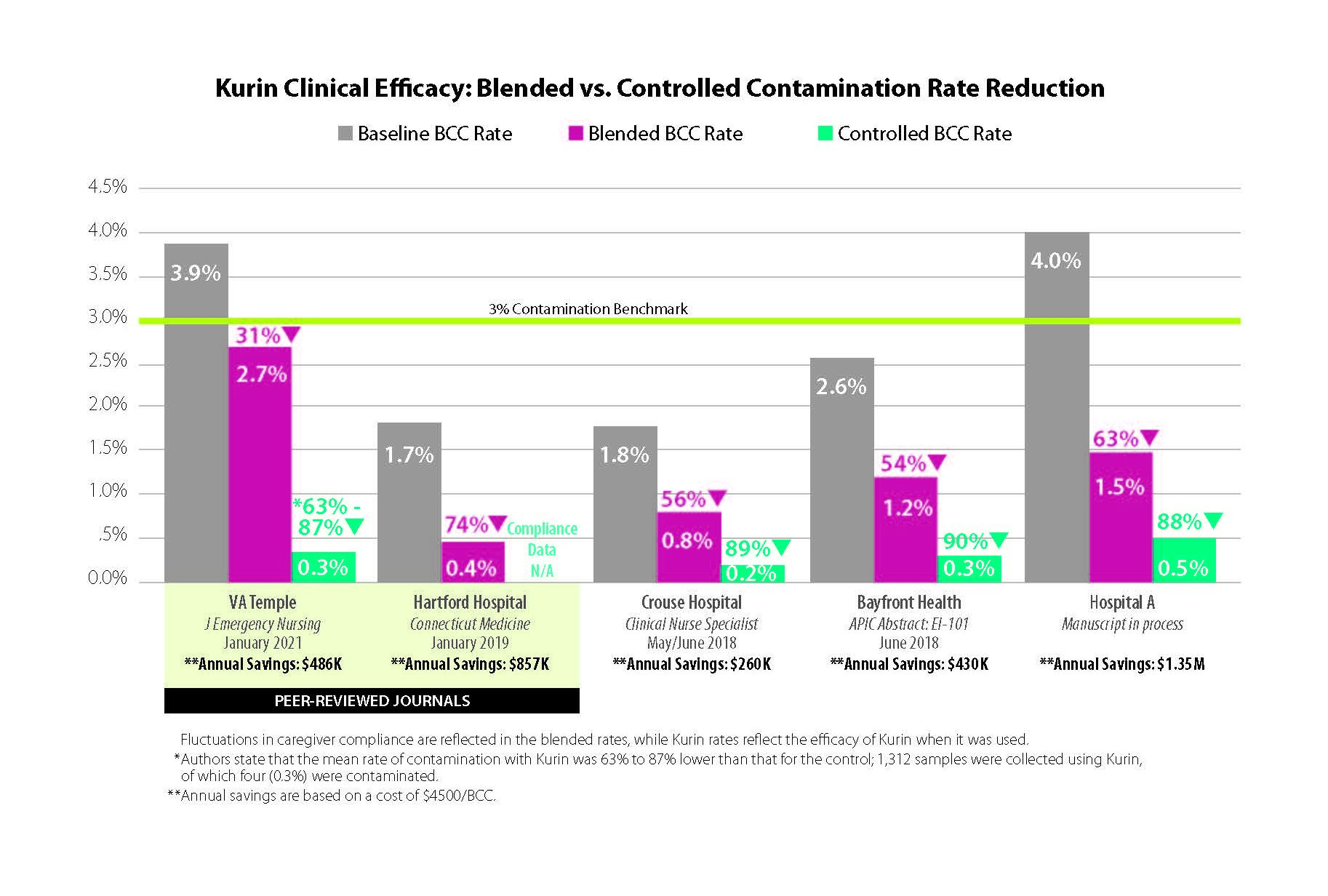 References
Reducing False-Positive Blood Cultures: Using a Blood Diversion Device
Dr. David M. O'Sullivan and registered nurse Lee Steere describe the reduction in false-positive blood cultures at Hartford Hospital in Hartford, CT with Kurin® passive diversion technology. Connecticut Medicine. February 2019: Vol 83(2): pages 53-56.
The Impact of Blood Culture Diversion Devices on Contamination Rates
Monica Arenas and colleagues from Central Texas Veterans Health Care System, Temple, TX, presented comparative data from trialing two different types of devices that address blood culture contamination, noting significantly decreased contamination in the ED. Southwest Association of Clinical Microbiology. San Antonio, TX. September 2018.
Preventing Blood Culture Contamination using a Novel Engineered Passive Blood Diversion Device
Jared Sutton, MPH, CIC, led a multidisciplinary team at Bayfront Health in St. Petersburg, FL to quantify the clinical and financial impact of Kurin® specimen diversion. APIC. June 13-15, 2018 Minneapolis, MN.
Not Your "Average" ED: A CNS-Led Project That Reduced Blood Culture Contaminations in One Emergency Department to Below Expected Levels
Michael Allain, MS, RN, ACNS-BC, CCRN, describes the impact of Kurin® specimen diversion in the Emergency Department at Crouse Hospital, Syracuse, NY. Clinical Nurse Specialist. May/June 2018.
Kurin product range
Kurin for Direct Venipuncture
BD Bactec®
bioMérieux BacT/Alert®
21 Gauge
23 Gauge
21 Gauge
23 Gauge
Safety Slide Needles
D-11221
D-11223
M-11221
M-11223
Push Button Needles
D-21221
D-21223
M-21221
M-21223
Kurin for Peripheral IV Collection
12-inch set
D-PIV12
M-PIV12
12-inch set + 6-inch extension
D-PIV18
M-PIV18
Kurin for Low-Volume Syringe Draws
4-inch set
S-PIV4
6-inch extension
S-PIV10