Nursicare Therapeutic Breast Pads for Breastfeeding Mums
Feel more comfortable – quickly
When you are in pain, breastfeeding can be very challenging. Nursicare therapeutic breast pads can deliver rapid pain relief, enabling mum to nurse baby in comfort.
Nursicare helps to quickly repair irritated and cracked nipples by creating a clean, healing environment that helps prevent infection and allows the nipple to return to its natural, healthy state.  The faster a wound heals, the less susceptible it is to infection.
Safe for baby – safe for you
Where mums and babies are concerned, safety must be a top priority. Nursicare meets all required international safety standards, and has passed all relevant regulatory reviews.
Our Approach, proven healing properties built in to every pad
Nursicare therapeutic breast pads are made from PolyMem, an innovative material used in multifunctional wound care dressings and proven worldwide to reduce pain and improve healing of skin and soft tissue injuries, in both acute and chronic wounds. (1,2)
(1) The effectiveness of a pain wrap compared to a standard dressing on the reduction of postoperative morbidity following routine knee arthroscopy: a prospective randomized single-blind study" Hayden JK, Cole BJ, (2003). Orthopaedics. Vol. 26, No. 1. (2) Polymeric Membrane Dressing for Radiotherapy-induced Skin Damage" Scott A. (2014). British Journal of Nursing, (Oncology Supplement), Vol 23, No. 10 

Available from Iskus Health in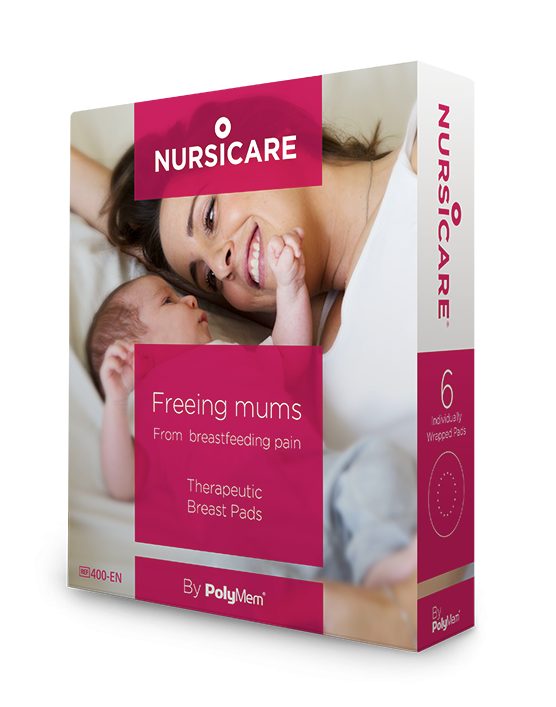 HOW TO PURCHASE NURSICARE
To purchase Nursicare breast pads please contact Iskus Health
Email info@iskushealth.com
Tel: +353 (0) 1 404 8383
Tel from N.Ire: 0845 850 8600
NURSICARE PRESENTATION
Sold in box of 6 Individually Wrapped Breast Pads per box
Order code: 400-EN(B)
€22.00 – Inc. VAT & Delivery